About The Beach
Next to the RAI you will find a large complex on the east side of the pond, which is home to the restaurant and various rooms for events. The Beach is Amsterdam's summer destination where you can enjoy a craft beer on the terrace, dinner in the restaurant or an industry networking event in one of the private areas. By facilitating more than 300 events per year, our team has built up vast knowledge that has been used to inform the development of Strandzuid.
The result is a venue with multifunctional rooms, multiple outdoor spaces and all necessary facilities for an unforgettable event. The RAI venues remain the preferred choice for exhibitors when hosting events during IBC. Compared with venues in the city centre, the RAI event venues allow you to arrange an earlier start time and offer your current and prospective clients a relaxed and welcome experience only a few steps away from the busy exhibition halls.
When combined with the exhibitor support provided making events much easier to organise, the Beach is the ideal venue for all your IBC event requirements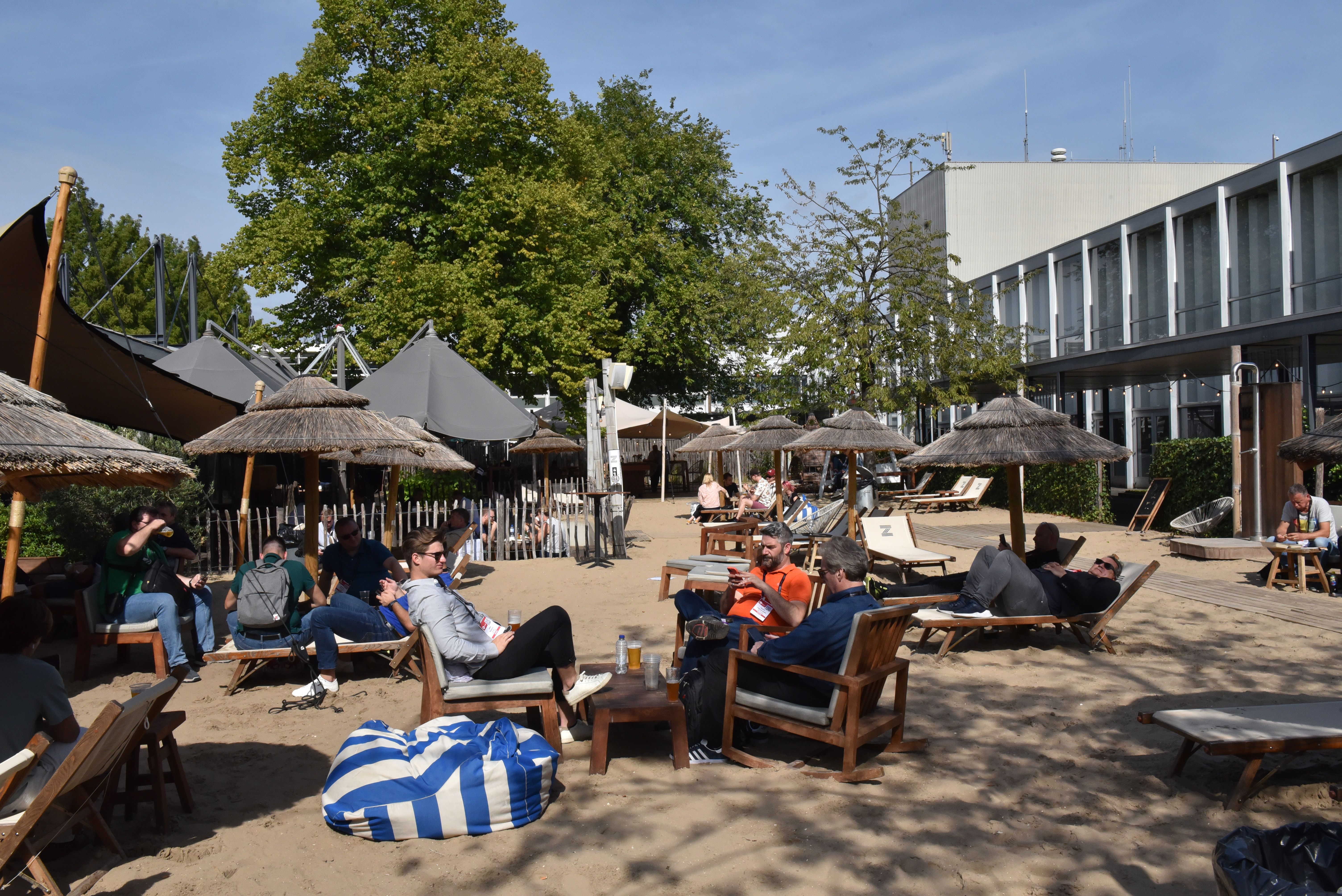 The Beach is Back!
The Beach returns this September with IBC2023! Take some time away from the show floor. Enjoy the sunshine, grab a beer, reunite with friends and colleagues.
The Beach House
Set away from the busier main structures and with its own bar and terrace, the Beach House is a more relaxed and comfortable space for groups of up to 200 people. Inside you'll experience a typical summer atmosphere, with playful elements and greenery. The furniture has a standard layout with several sitting areas, but can be adjusted as desired.
The Boat House
The biggest indoor event venue is The Boat House, located on the waterfront next to The Restaurant. The space has a warm, open atmosphere and uses a lot of glass, a perfect link with the outside. The Boat House is in direct contact with the kitchen for large seated meals and has its own bar and toilets for a more exclusive feel.
The Waterfront
The Waterfront is on of the most wanted areas because it is just next to the water, which gives an extra spectacular summer ambiance. This outdoor event space will be partially covered with an elegant tent and is the ideal place for impressive company parties, team building with colleagues and other relaxing networking.
The Jetty Bar
There is nowhere better for get-togethers and barbecues than the Jetty Bar; a beach and kitchen next to the harbour. This outdoor event space will be partially covered with an elegant tent and is the ideal place for impressive company parties, team building with colleagues, exciting product launches and relaxed presentations