DOUBLE DECKER DOCUMENTATION
Full set of stand plans via the Stand Plan Submission Form to Abraxys to obtain 'Permission to Build' certificate'
Full set of stand plans including structural calculation via the Double Decker Build Permit Application to the RAI Amsterdam Licences Desk
Double Decker Acknowledgement Form - a compulsory acknowledgement of the terms and conditions associated with double decker build at IBC to Abraxys
Double Decker Working at Heights Form detailing control measures for working at height to Abraxys
Risk Assessment and Method Statement of the stand construction and dismantling to Abraxys
APPROVAL OF DOUBLE DECKER STANDS
As well as receiving general approval of stand plans from Abraxys, a special Double Decker Permit is also required by law and will not be classed as fully approved until passed through the approval by the RAI Amsterdam. A Double Decker stand design approved by Abraxys may be subject to further design changes should it be deemed necessary by the RAI Amsterdam Licenses Desk. A Double Decker Build Permit fee will be charged by RAI Licenses Desk. If a Doubled Decker stand is built without a permit, the authorities have the right to close off the stand or prevent it from being built. The local authorities are now very strict, and no exceptions will be made. Deadline to apply for the Double Decker Build Permit will be published in due course. Please see Stand Plan Submission for important information regarding the submission of build approval documentation and obtaining a build permit.

Permit applications should take into account the relevant Dutch Building Standards for Double Decker Stands such as strength, stability and point loads including railings and stairs. It is highly recommended that exhibitors and/or their contractors contact the RAI Amsterdam structural engineer for further details before designing their Double Decker stand. If you have any questions, please email permits@rai.nl.

IBC will not be held responsible for any costs whatsoever incurred by the exhibitor as a result of requested design changes on the grounds of health and safety by the RAI Amsterdam at the second stage of the design approval and permit application process.
IMPORTANT DESIGN RULES FOR DOUBLE DECKERS
In line with IBC Skyline Zone rule, it is required that the upper deck of any Double Decker stand retain a high element of skyline transparency, constituting an open design, incorporating balustrades and low-level walling. Where closed-off meeting rooms are required for privacy and noise insulation on the upper deck, approximately 25% of the walling creating the closed off area should retain a degree of transparency and be constructed for example out of see-through materials such as non-tinted glass, see-through muslin etc. Double Decker designs that are completely closed in on the upper decks forming high, solid cube or box-like structures will not be permitted. IBC reserve the right to refuse, or request amendments to designs, which in their opinion have a detrimental effect to neighbouring exhibitors or the overall look of the exhibition.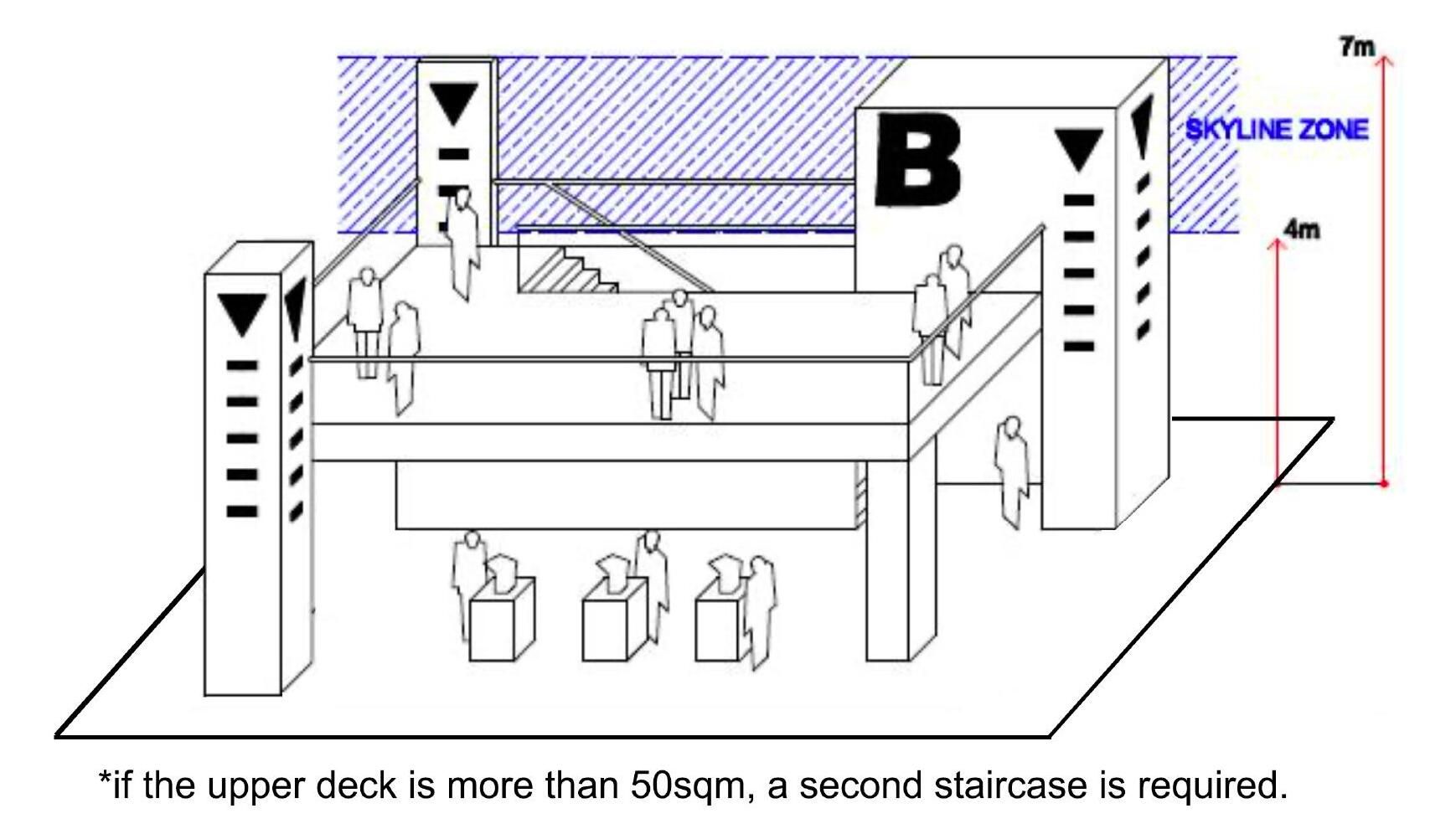 STAIRCASES
The number, location and width of staircases necessary on a Double Decker stand is judged on a case-by-case basis by the RAI Amsterdam Licenses Desk when issuing Double Decker build permits. Consideration is taken of the direction of traffic flow, floor area used by the public excluding private staff areas such as storage rooms etc. As a general rule an upper deck floor area of 50sqm or over will require two or more staircases. IBC and Abraxys are NOT able to advise on the definitive number and or configuration of staircases on a Double Decker stand. RAI Amsterdam Licenses Desk will advise on the layout and number of staircases during the second stage of Double Decker stand plan approval. Should they require that the design be changed on the grounds of health and safety and structural soundness, their decision is final. Any additional costs that may be associated with this will be the responsibility of the exhibitor. Double Decker stands are not fully approved until passed through the second stage of approval by the RAI. We strongly advise designers to contact the RAI directly with regards to guideline advice on such integral elements of a Double Decker stand design as layout and number of staircases and emergency exits before they finalise their design plan ideas.
SEPARATION WALLS
Where a Double Decker stand adjoins another stand, the maximum permissible height of the separation wall is 5m. Separation walls higher than 5m will not be allowed. You will be required to dress the wall on the reverse in a colour agreed with your neighbour. Your neighbour will have the option of placing their logo on the side of the separation wall that faces their stand.