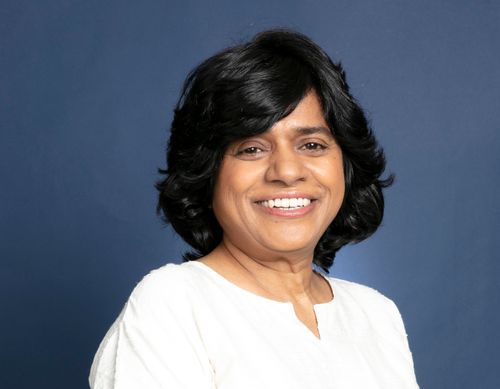 Soumya Sriraman
President of Streaming, Qurate Retail Group 
President of Streaming, Qurate Retail Group
Soumya Sriraman was named President of Streaming, Qurate Retail Group in September 2022. In this newly created role, Sriraman leads Qurate Retail Group's streaming commerce business, which includes the QVC+ and HSN+ streaming experience, QVC's and HSN's expanding presence on digital livestreaming TV, and other opportunities. As a foundation, she is also engaging and expanding Qurate Retail Group's world-class streaming commerce team.
Sriraman is an experienced CEO and general manager with deep expertise and record of success in building streaming businesses, across a variety of media companies, that have generated strong growth in subscription VOD, monthly active users (MAUs) and revenue. She most recently led Amazon's Channels business, which offers add-on subscription services to a la carte channels such as Paramount+, Discovery+, Starz, PBS and many others to Amazon Prime members. Prior to Amazon, Sriraman was the founding CEO and President of BritBox, the first-of-its-kind SVOD from the two national broadcasters in the UK, BBC and ITV. In that capacity, she designed, built and launched this targeted streaming service, which now boasts more than 3 million subscribers worldwide. During Sriraman's tenure, BritBox was the fastest growing streaming service of its kind. At BritBox, Sriraman produced the strategic content roadmap and several innovative shows, including the live telecast of "Harry and Meghan: The Royal Wedding," a first-of-its-kind streaming event, apart from many other originals. Multichannel News recognized Sriraman for her incredible work at BritBox, and awarded her, along with an exclusive class of her peers, the inaugural "Wonder Woman in Streaming Award."
Previously, she served as Executive Vice President of Franchise and Digital Enterprises at BBC Studios, where she expanded consumer facing businesses for key BBC brands and led the first ever theatrical release of a TV series – "Doctor Who 50th Anniversary." Prior to joining BBC, Soumya held senior and executive positions at Tartan, Vivendi Universal, Warner Brothers and Universal Studios, leading a broad range of businesses and initiatives.