BENEFITS OF EXHIBITNG AT IBC2023
This year, we want to work with you to ensure that you make the most of your IBC experience and to help you get the best return on investment and deliver brand exposure. We have a number of Initiatives which will provide you with the opportunity to do so:
Spotlight Videos
Content Everywhere Newsletter
Future Publishing
Put yourself centre-stage at IBC2023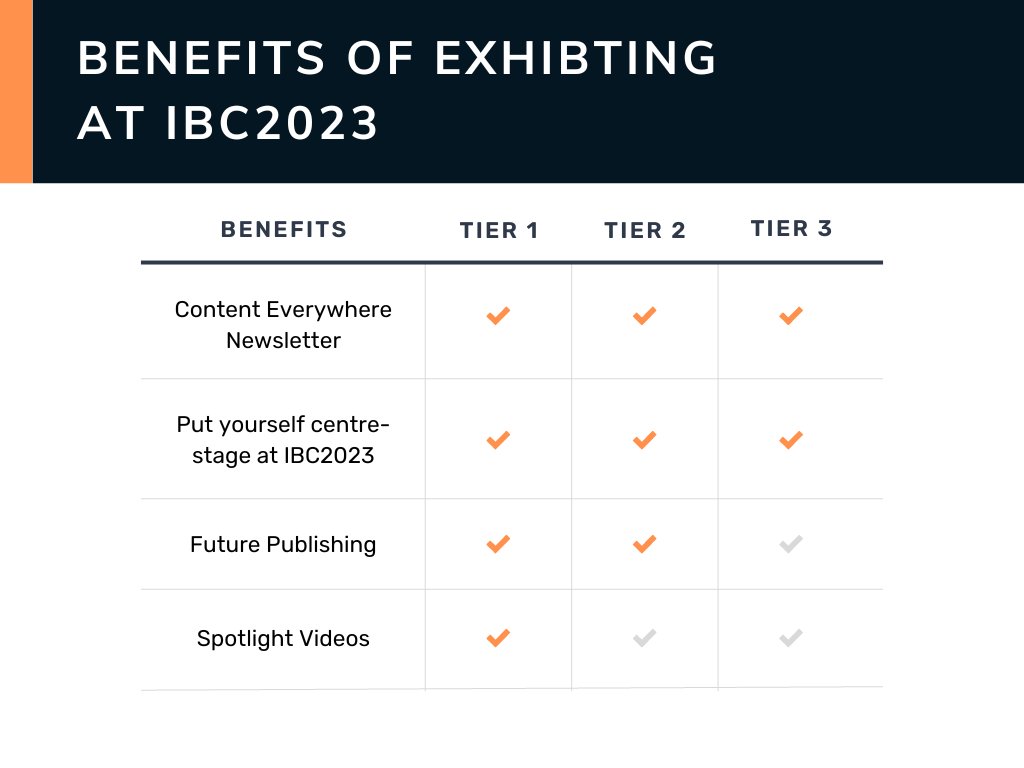 Content Everywhere Newsletter
Tier 1, Tier 2, Tier 3
As part of your Content Everywhere investment and as a top tier Content Everywhere Exhibitor, you are entitled to the free editorial opportunity within IBC365's dedicated Content Everywhere monthly Newsletter.
The newsletter is distributed to our database of over 40,000 contacts and is dedicated to providing our exhibitors with the latest news and information from companies at the forefront of online and streamed video.
Put yourself centre-stage at IBC2023
Tier 1, Tier 2, Tier 3
Content Everywhere at IBC includes a highly popular free-to-attend programme of panel discussions and product demonstrations that explore every aspect of the delivery and consumption of content over the internet. Due to demand from exhibitors and the interest and support of visitors, the programme will occupy two Content Everywhere stages in Hall 5 at IBC2023.
Future Publishing
Tier 1, Tier 2
As a top tier exhibitor, you are entitled to an enhanced marketing and editorial package this year that includes exclusive content via our partners at Future Publishing and Next TV.
You have the opportunity to be featured in the Next TV, 'Must See' dedicated Content Everywhere newsletter series as well as advertising in the Next TV daily newsletter. The "Must See" newsletter is sent out to an international audience of 49,700 subscribers whilst the Next TV Daily Newsletter has an international circulation of 53,600 subscribers from the OTT and Streaming sectors.
Spotlight Videos
Tier 1
The opportunity to create a short interview video which will be used across IBC's visitor marketing campaign to increase brand exposure for your company.
The clip will be short (30-40 seconds) and will give the IBC audience a brief teaser into what to expect on your stand at the event. This will be recorded on Zoom, and then edited to use on social media.